Macy's Great American Marching Band
What is the Macy's Great American Marching Band?
On November 27, 2014, a proud musical tradition will continue!  With the success of the inaugural band in 2006, and the bands that have followed, Macy's has asked MUSIC FESTIVALS & TOURS to once again continue to be their proud partner with The Macy's Great American Marching Band for the 88th annual Macy's Thanksgiving Day Parade. Honoring America's finest high school musicians, this band will be comprised of select students from each of the fifty states. The musicians are under the direction of Auburn University's Dr. Richard Good and Assistant Director, Barry Houser, from the University of Illinois.  The 185 musicians will be complemented by approximately 40 flags and dancers.
For more information on the Macy's Great American Marching Band, please visit their main site.
What are the Auburn University Bands?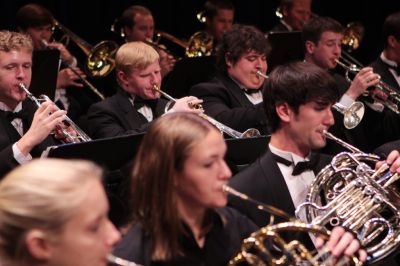 For over 100 years, the Auburn Bands have demonstrated excellence in performances all over the world. Whether it's the Auburn University Marching Band stepping down the field, or the Symphonic Band giving another masterful performance, Auburn continues its rich musical tradition year after year.
We welcome you to browse our site and learn more about our various musical ensembles, find out more about our directors, or look into some of our various programs for high school students, such as our honor bands and summer camps.  If you have any questions, please don't hesitate to contact us.