Auburn University Bands » Ensembles » Symphonic Winds » Auditions
About the Symphonic Winds and Concert Band
The Symphonic Winds is the premiere performing ensemble in the Auburn University Band Program. Conducted by the Director of Bands, Dr. Rick Good, membership is by audition and is open to any Auburn student. Scholarship money is also available for some students who are selected for the band. The band rehearses three hours per week during fall semester and five hours per week during spring semester.
The Concert Band, conducted by the Associate Director of Bands, Dr. Corey Spurlin, is the second performing ensemble of the Auburn University Band Department. The group is open by audition to any Auburn student with high school band experience. The ensemble performs two concerts during the spring semester, with each program consisting of a variety of traditional and contemporary band literature. The concert band rehearses four times per week during spring semester with one hour of academic credit awarded for participation. This credit may be used as an elective in any curriculum.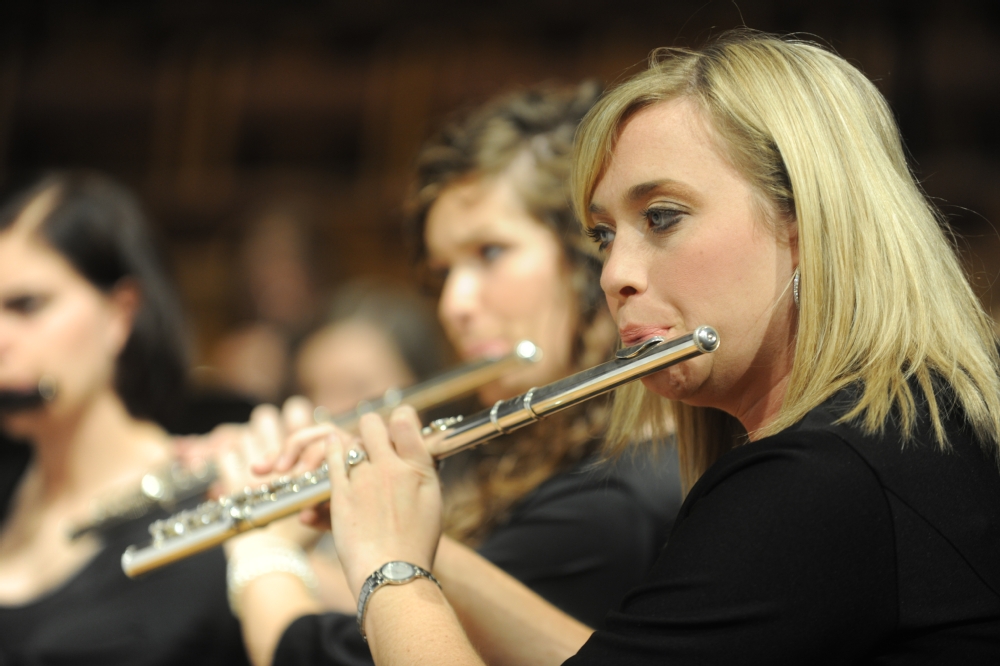 How to Join
Symphonic Winds and Concert Band auditions are held preceeding each semester. All auditions (Woodwind, Brass and Percussion) consist of three parts. Anyone wishing to audition for percussion should email Dr. Rosener to set up a time to audition. If you wish to be in Campus Band, or if your schedule only allows you to be in Campus Band, no audition is required.
The Auburn University Department of Music will hold auditions for the Spring 2020 Symphonic Winds and Concert Band on Wednesday, December 4th. All auditions will take place in the Goodwin Music Building. Woodwind and brass auditions will take place from 11:30 am - 1:30 pm. Please sign up for the audition slot for your instrument below. You will be notified through email of your assigned time. If you have any questions or conflicts with the audition times, please email Elijah Clark.
Auditions will consist of:

Several common major scales

A prepared piece, provided on our website below

Also be prepared for a possible sight reading exercise
Sign up for a Woodwind or Brass time below.
Percussion do not need to sign up.
Spring 2020 Audition Material
Flute
Clarinet
Bass Clarinet
Saxophone
Oboe
Bassoon
Horn
Trumpet
Trombone
Euphonium
Tuba

Credit
One hour credit is available for participation in any of our concert groups. This credit may be used as an elective in any curriculum.
Cost
Members of the Symphonic Winds and Concert Band supply their own formal attire for concerts. There is no other cost except tuition. Band members do NO fund raising.
Directors
Director of Bands, Dr. Rick Good
Associate Director of Bands, Dr. Corey Spurlin
Contact
AUBURN UNIVERSITY BANDS
132 Goodwin Music Building
Auburn University, AL 36849-5421
Phone: (334) 844-4166
Fax: (334) 844-3170
E-mail: band@auburn.edu
Last Updated: 12/03/2019