Auburn University Bands » Directors and Staff » Brady McNeil
Brady McNeil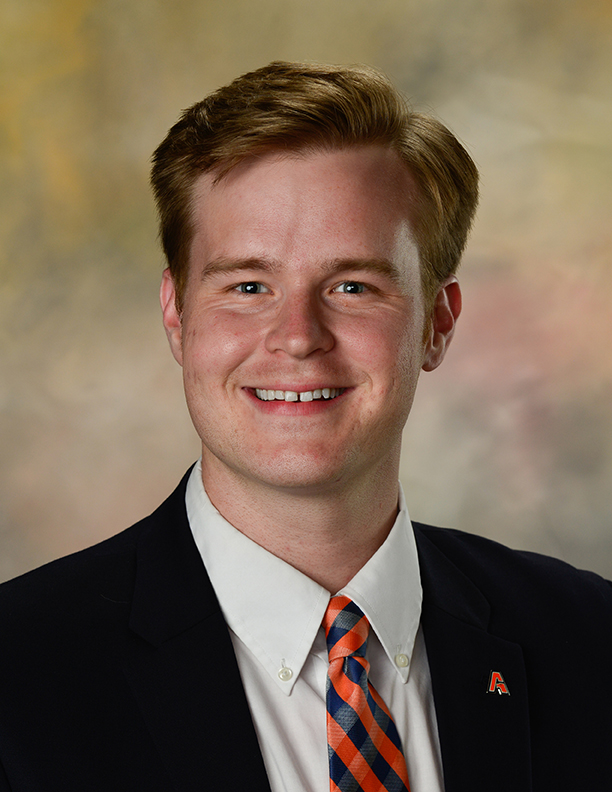 Brady McNeil is an alumnus of Auburn and has returned home to pursue his Doctor of Philosophy degree in instrumental music education. Mr. McNeil also serves as a Graduate Teaching Assistant for the AU Bands and is an instructor for undergraduate courses in the music department. Prior to his appointment at Auburn, Mr. McNeil served as a music teacher for Central High School in Phenix City, Alabama for the past two years where he was responsible for starting the choral program, assisting with the Central High School Red Devil Regiment and Symphonic Band, and co-teaching and music directing shows with the musical theatre program. 
Mr. McNeil holds a Master of Music degree in Music Theory from the University of Tennessee where he primarily studied under Dr. Barbara Murphy, as well as a Bachelor of Music Education degree from Auburn University where he studied private trumpet with Dr. Mark DeGoti. Mr. McNeil's professional affiliations include the Alabama Bandmasters Association, the National Association for Music Educators, the American Choral Directors Association, Phi Kappa Phi, and Pi Kappa Lambda National Music Honor Society. Mr. McNeil is also an alumnus of Kappa Kappa Psi, the National Honorary Fraternity for band members. 
In his free time, Mr. McNeil enjoys being on the. stage performing in musical theatre productions. A few of his most recent productions include South Pacific with the nationally recognized Clarence Brown Theatre in Knoxville, Tennessee, A Little Night Music at Oak Ridge Playhouse, and Les Miserables with the Tennessee Valley Players. Mr. McNeil also loves spending time with his golden retriever baby, Hudson. 
Last Updated: 07/16/2018