Auburn University Bands » Review and Delete » TEST » Ensembles » Jazz Band » Auditions
Auditions and Materials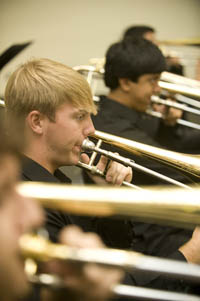 To all auditioning musicians:
Auditions for the big bands will be held from August 18th-21st. A sign-up sheet will be outside Dr. Pendowski's door for the horns. All rhythm players (piano, bass, guitar, drums) will audition during the rehearsal time on Thursday August 20st between 2pm and 3pm. The first full band rehearsal will be on Tuesday Aug. 25th. Audition process and materials for the horns is available below. Rhythm players will receive their material during the audition. The results will be posted Friday afternoon August 21nd.
Auditions for the combo will take place at the same time. Rhythm players should also attend the rehearsal on August 20th.
Welcome back everyone!
Wind players are required to perform the following:
The example that is associated with your instrument.

Sight-reading (to be selected by the director).

Improvisation on the F blues (this is optional).

A scale to demonstrate range and tone; chromatic scale
Last Updated: 09/27/2015