Auburn University Bands » Ensembles » Marching Band » Preseason Camp
Preseason Camp 2019

Welcome to the 2019 Preseason Camp page, your source for information on the preseason band camp for the Auburn University Marching Band. This page will be updated periodically throughout the year with details on our 2019 camp, so keep an eye on the site for the latest news. Also, feel free to check out our Frequently Asked Questions for more details about preseason camp and the AUMB.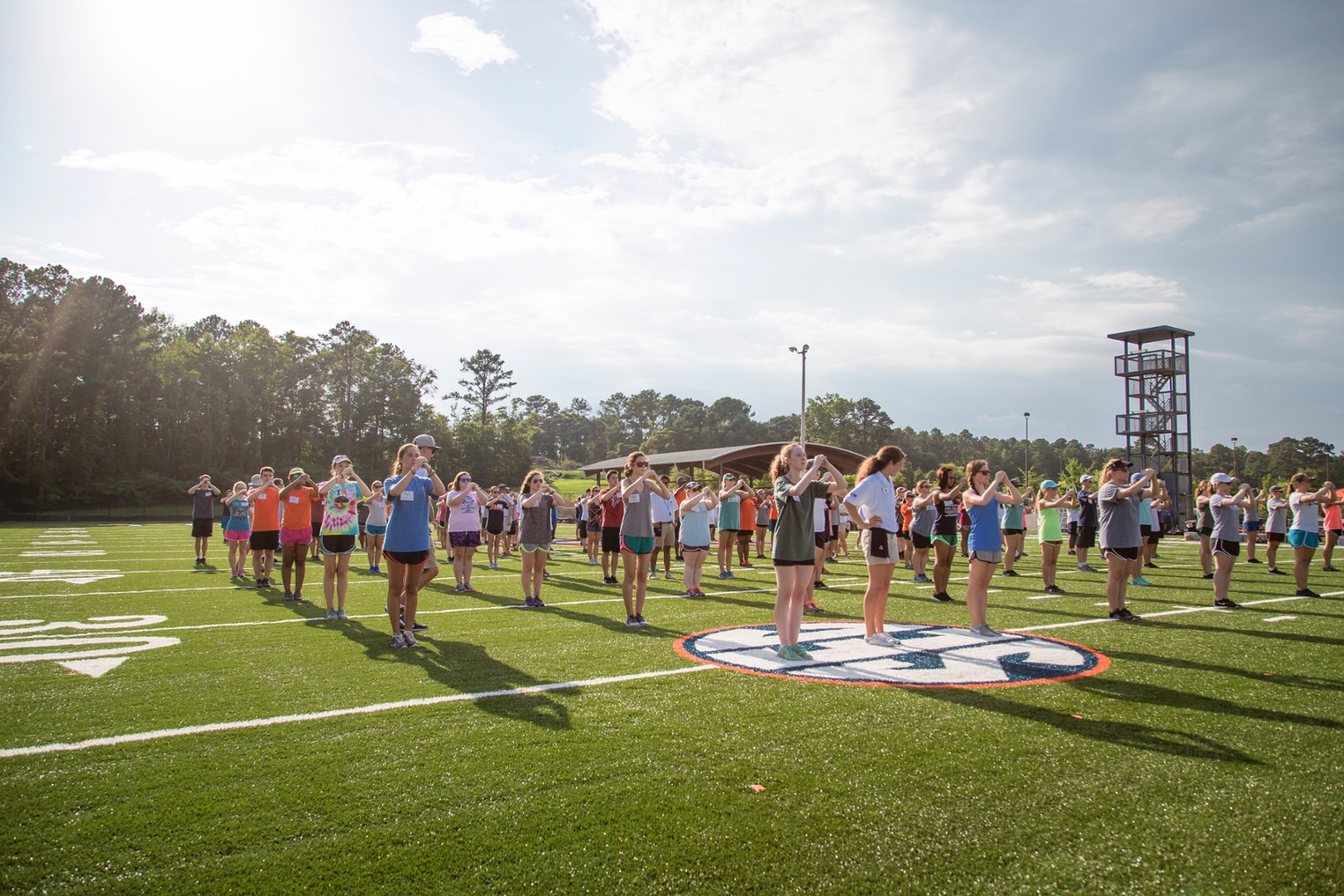 Preseason Camp Dates
The starting date for Preseason Camp varies for different sections of the band. Please see the specific camp schedules below.
Saturday, August 3

Leadership Report
Sunday, August 4

Percussion Auditions Round 2
Monday, August 5

First year woodwinds and brass register for Preseason camp. New woodwind and brass music evaluations occur; marching fundamental instruction begins.
*Optional report date for returning woodwinds and brass

Tuesday, August 6

All Tiger Eyes and Percussion register for Preseason Camp
Thursday, August 8

Required report date for returning members
Friday, August 9

Marching evaluations for all woodwinds and brass; Final roster selected. Preseason camp continues through August 18.


Schedules
Leadership
Returning Members
New Members
Tiger Eyes
Percussion


On-Campus Housing Move-In Information
New or Returning (opt.) participant move-in Sunday, August 4.
Returning participant move-in Thursday, August 8.
AUH will host early move-ins on Sunday, August 4 and Thursday, August 8. NEW participants (opt. RETURNING participants) must move-in on Sunday, August 4. Returning members have the option to move-in on Sunday, August 4 or Thursday, August 8 prior to VET registration.
AUH Move-In Registration will open May 15 and run through July 28 at 5:00 pm in the Housing Student Portal. When you register for a move-in time, please select "Band" as the organization requiring early move-in. You must register for a move-in day to have your room, key, and documents prepared when you arrive. Residents will be able to view their assigned move-in time beginning July 8 under their assignment in the student portal. If you need to change your move-in time or date after you have registered, please send an email with your request to housing@auburn.edu with the subject line "Band move-in time request."
RETURNING Participants: If you choose to move-in on Thursday, August 8 and you are assigned a move-in time later than 12:00 pm, please send an email with the subject "Band move-in time request" to housing@auburn.edu requesting another afternoon time that doesn't conflict with the AUMB preseason rehearsal schedule.
Any prospective member who completes an AUMB intent form after August 1st will need to send an email to housing@auburn.edu to request a move-in time.
Music
Pre-game and Halftime show music will be available in the AUMB Member Database sometime in June.
Last Updated: 04/30/2019