All students interested in the AUMB and Basketball Pep Band must complete a profile in the AUMB Membership Database.  Once you've created a profile, you may then submit an Intent Form through our system.
Click HERE to open the Membership Database in a new window.
Instructions for using the Membership Database:
Step 1: Sign into the system
Open up the Membership Database from the above link.  You'll be asked to log in using your Auburn Username and Password.  (If you are an incoming freshman, you should receive instructions on how to set up your username and password once you've paid your admissions deposit. Also, ensure that your password is properly synchronized.) If you've completed a profile in our system before, you may skip ahead to Step 3. If you've never created a profile in our system, you should see a page like this once logged in: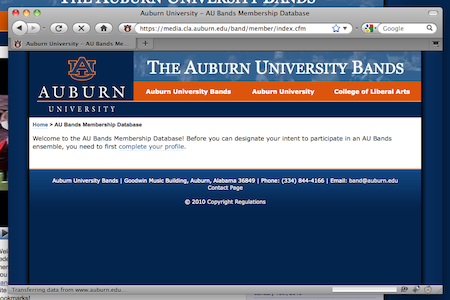 Click on "complete your profile" to continue.
Step 2: Fill out a new AUMB Member Profile
You should see a blank profile like the picture below. Fill out as much information on this page as possible. If you are missing certain data (such as a Banner ID or campus address) you will have the opportunity to submit that information later; however, it is required that every student who tries out for the AUMB have a completed profile in our system before Preseason Camp.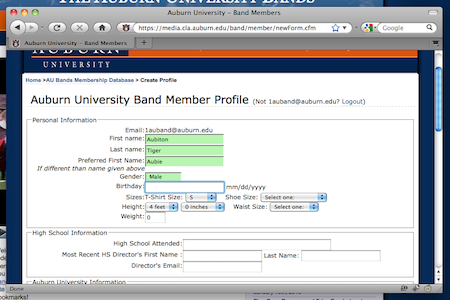 Once you've filled out the form, hit submit at the bottom of the page.  You will then be returned to the Membership Database homepage.
Step 3: Review your profile
Once you have a profile in our system, it will appear on the Membership Database homepage underneath the listing for the upcoming semester's Intent Form.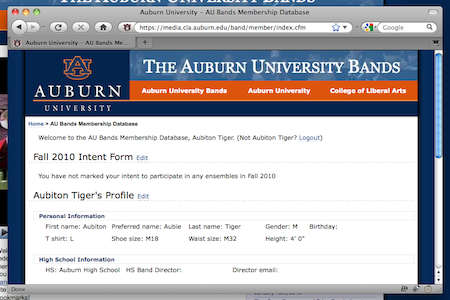 Please click Edit to review your profile and make sure everything is up to date.  It's required that every student review their profile each semester to ensure that it's kept up to date.
Step 4: Designate your Intent to Audition
The last step is to submit an Intent Form letting us know you wish to be a part of the AUMB in the coming semester. The top of the homepage lists the upcoming semester's Intent Form.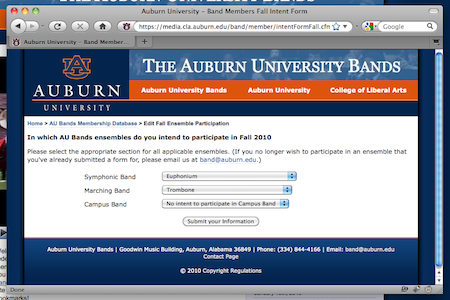 Select the section of which you wish to become a member for that semester.  Once you've made all the appropriate selections, click Submit.
You're done!
You can always return to the Database homepage to review your membership status, intent form, and profile.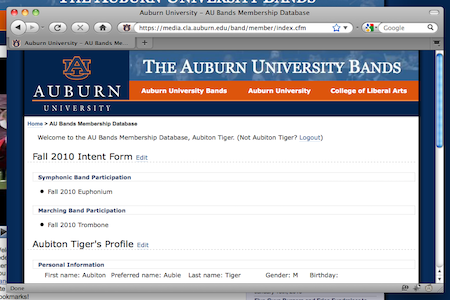 If you need to update your profile or declare your intent to audition for an additional ensemble, you may do so by clicking "Edit" by the appropriate section title.  If you no longer wish to audition for an ensemble for which you have submitted an intent form, email us at band@auburn.edu to let us know.
Please note that for most ensembles you are also required to sign up for the corresponding course in AU Access as you would any other class. Members who do not sign up for the appropriate course will not be allowed to participate in AU Bands ensembles.
If you have any questions regarding the AUMB Membership Database, email us at band@auburn.edu and we'll be happy to assist you.