Auburn University Bands » Contact Us
Contact Us

If you have any further questions, please do not hesitate to contact our band office.
Auburn University Bands
132 Goodwin Music Building
Auburn University, AL 36849-5421
phone: (334) 844-4166
fax: (334) 844-3170
e-mail: band@auburn.edu
Send any questions you have to us via email if you'd like! We check our inbox regularly, and will reply to you as quickly as possible. Of course, you may feel free to call the band office by telephone if you need immediate assistance during office hours.
Thank you for your interest in the Auburn University Bands, and WAR EAGLE!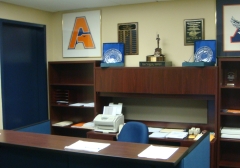 Last Updated: 07/15/2016