Our mission:
The Mission of the Auburn University Summer Band Camps is to provide students with an opportunity to enjoy learning from prominent instrumental music educators, making music with musicians around the nation, and working with the outstanding summer camp faculty. Our desire is to see students grow as musicians, leaders, and individuals to further enrich their lives.


Follow along with us on Facebook!
Marching Leadership Camp - June 17 - 20, 2015
Marching Percussion & Auxiliary Camp - June 12 - 14, 2015
The Auburn University Bands proudly sponsors three separate Summer Marching Band Camps for high school students. Drum majors and section leaders will benefit from our Marching Leadership program, which emphasizes leadership training and conducting, as well as marching and music pedagogy. Colorguard, dancers, and majorettes will enjoy our Marching Auxiliary program, which includes basic and advanced technique development and group routines. This year, a separate track will be added for auxiliary captains, addressing teaching skills and choreography development. Lastly, high school percussionist can take advantage of our Marching Percussion program, which includes master classes, section rehearsals, and large ensemble rehearsals.
All Summer Marching Camp participants will take part in a combined Finale Concert at the end of the weekend, open to parents and the Auburn community.  Participants will also have fun hanging out with their new friends during breaks, lodging in AU Residence Halls, and taking part in organized games and social activities during the evening hours.  Auburn University Summer Marching Band Camps are an experience you don't want to miss!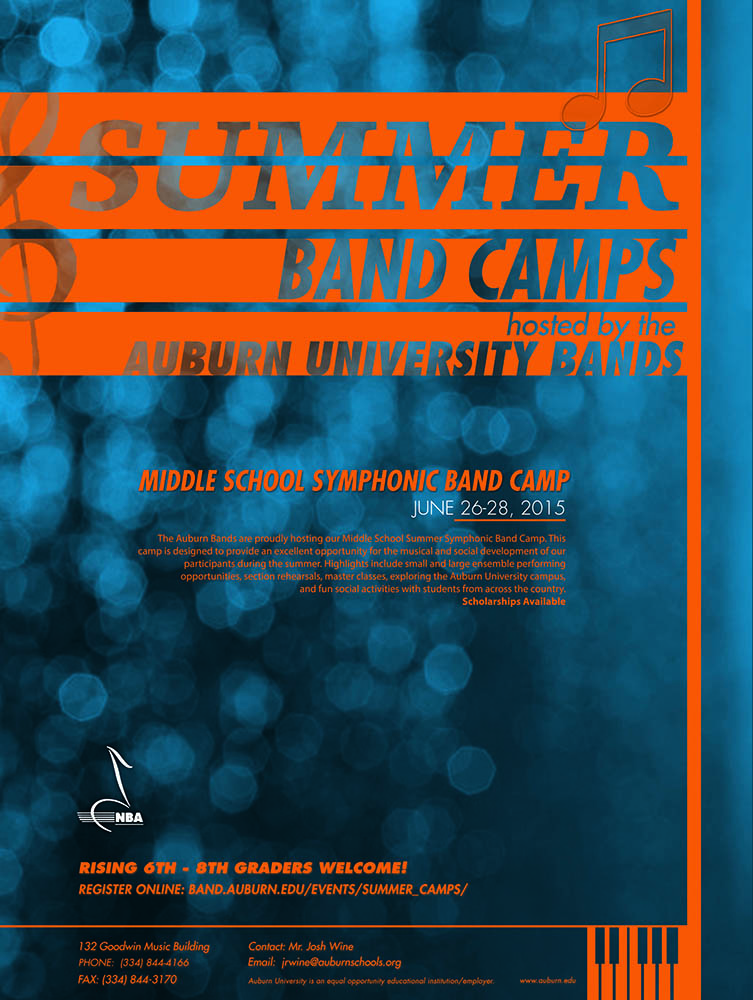 Summer Symphonic Band Camps
High School Symphonic Band Camp - June 14 - 17, 2015
Middle School Symphonic Band Camp - June 26 - 27, 2015
The Auburn University Bands holds two annual Summer Symphonic Band Camps each year.  These camps, designed for Middle School and High School students respectively, provide an excellent opportunity for the musical development of our participants during the summer.  Rehearsals with band students from across the country, as well as section rehearsals and master classes, are a reason your child won't want to miss out on being a part of our summer camp program this year.
Throughout the camp participants will get to know their fellow campers while staying in AU Residence Halls and taking part in games and social activities, which make this a fun camp experience any band student would enjoy.  At the end of the camp the participants will perform in a Finale Concert for parents and the Auburn community.  We hope you come on down and take advantage of the one-of-a-kind experience you will have at Auburn University Summer Symphonic Band Camps.