The Tiger Eyes are the "visual" ensemble of the Auburn University Marching Band and are comprised of three distinct lines – flags, majorettes, and dancers – that present complementary choreography. Auditions for the three lines are competitive, and it is a great honor and privilege to be selected to this outstanding and extremely important component of the Auburn University Marching Band.
The Tiger Eyes Lines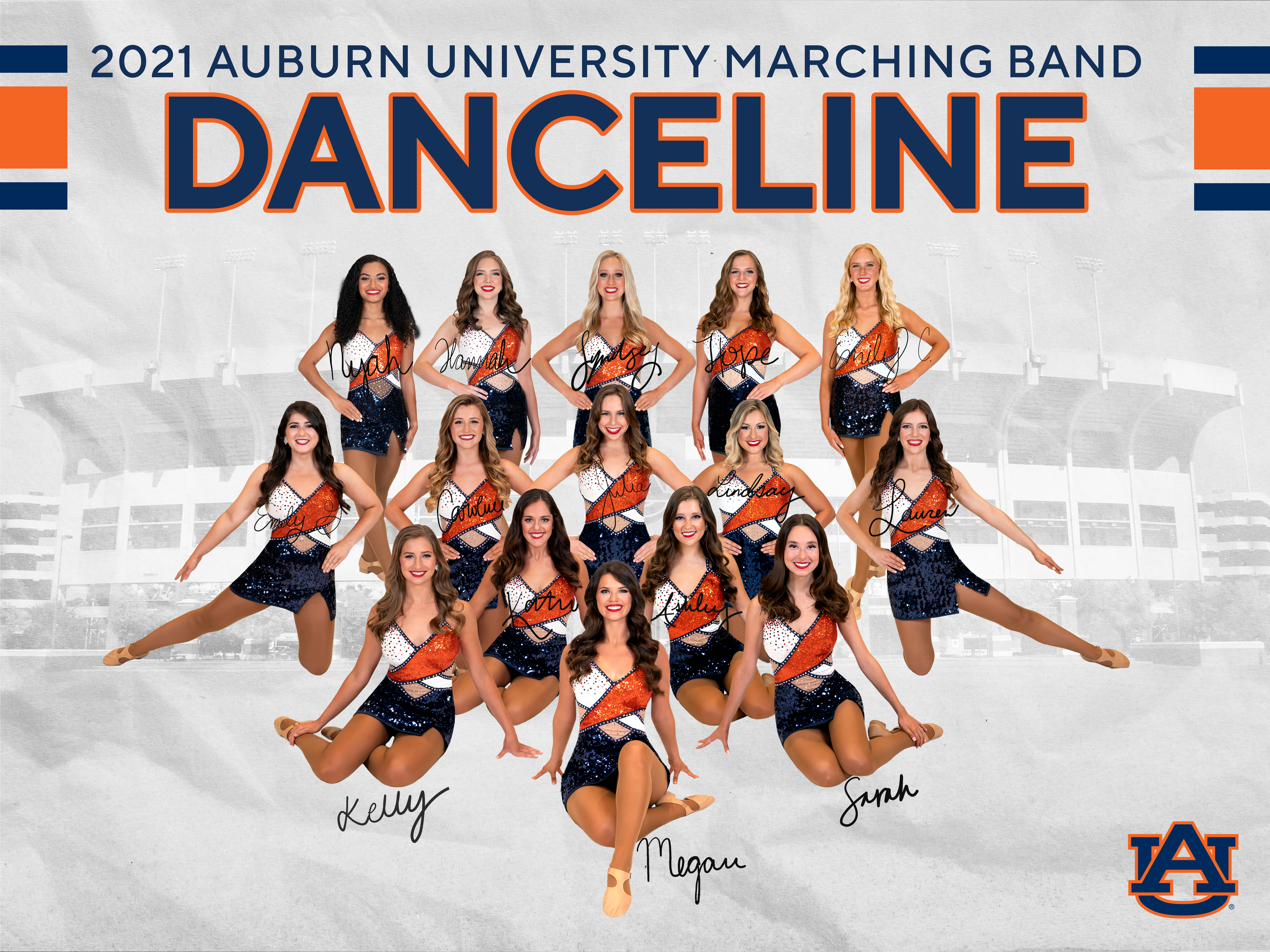 The AUMB Dance Line
The Tiger Eyes Dance Line is comprised of fourteen talented young ladies. The dance line choreography is a show-stopping blend of several genres, including jazz, ballet, precision/drill, and high-kick. Each member of the dance line possesses incredible dance technique, which is utilized each fall to enhance the visual presentation of the Auburn University Marching Band. In addition to the technical aspects of the Dance Line, poise, posture, body carriage, and showmanship are considered to be of utmost importance. The candidates selected to be members of the Dance Line possess incredible levels of talent, showmanship, and Auburn spirit, all of which are keys to the success of the Tiger Eyes and the Auburn University Marching Band.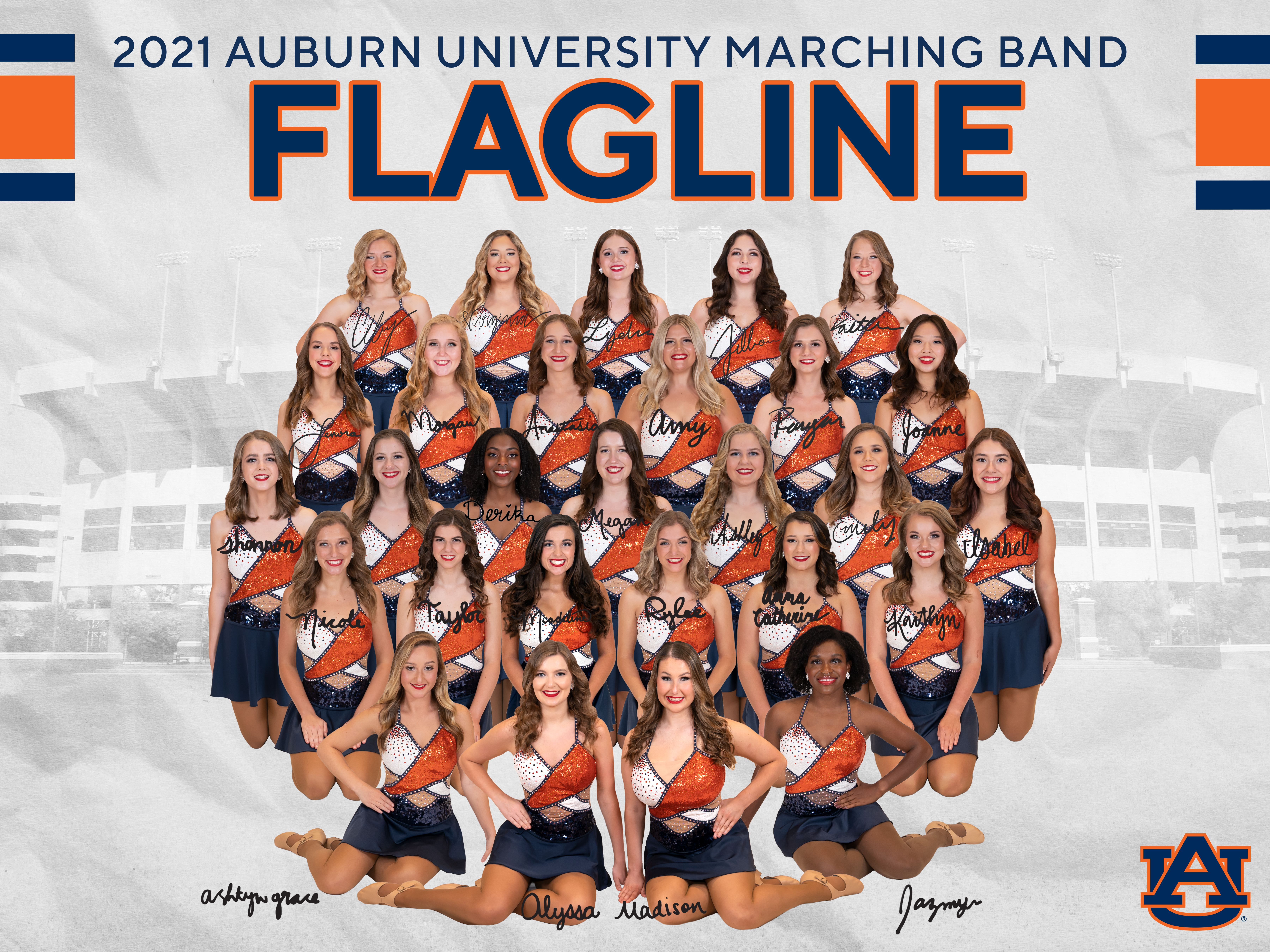 The AUMB Flag Line
The Tiger Eyes Flag Line is comprised of twenty-six dedicated, and skillful young women. Assembled from many diverse performance backgrounds, the Flag Line rehearses many hours to present a cohesive and entertaining visual display for the marching band. The flag line is proficient in marching band style spinning and incorporates standard and oversized flags, swing flags, rifles, sabers, and a variety of other props. Their performances are a blend of disciplined spinning, bold flashes of color, and seemingly effortless movement. They present a wonderfully balanced demonstration of discipline, structure, beauty, and grace. The AUMB Flag Line, along with the other Tiger Eyes units, represent Auburn's best and brightest young women, always setting high standards and exemplifying the pride and spirit of Auburn University!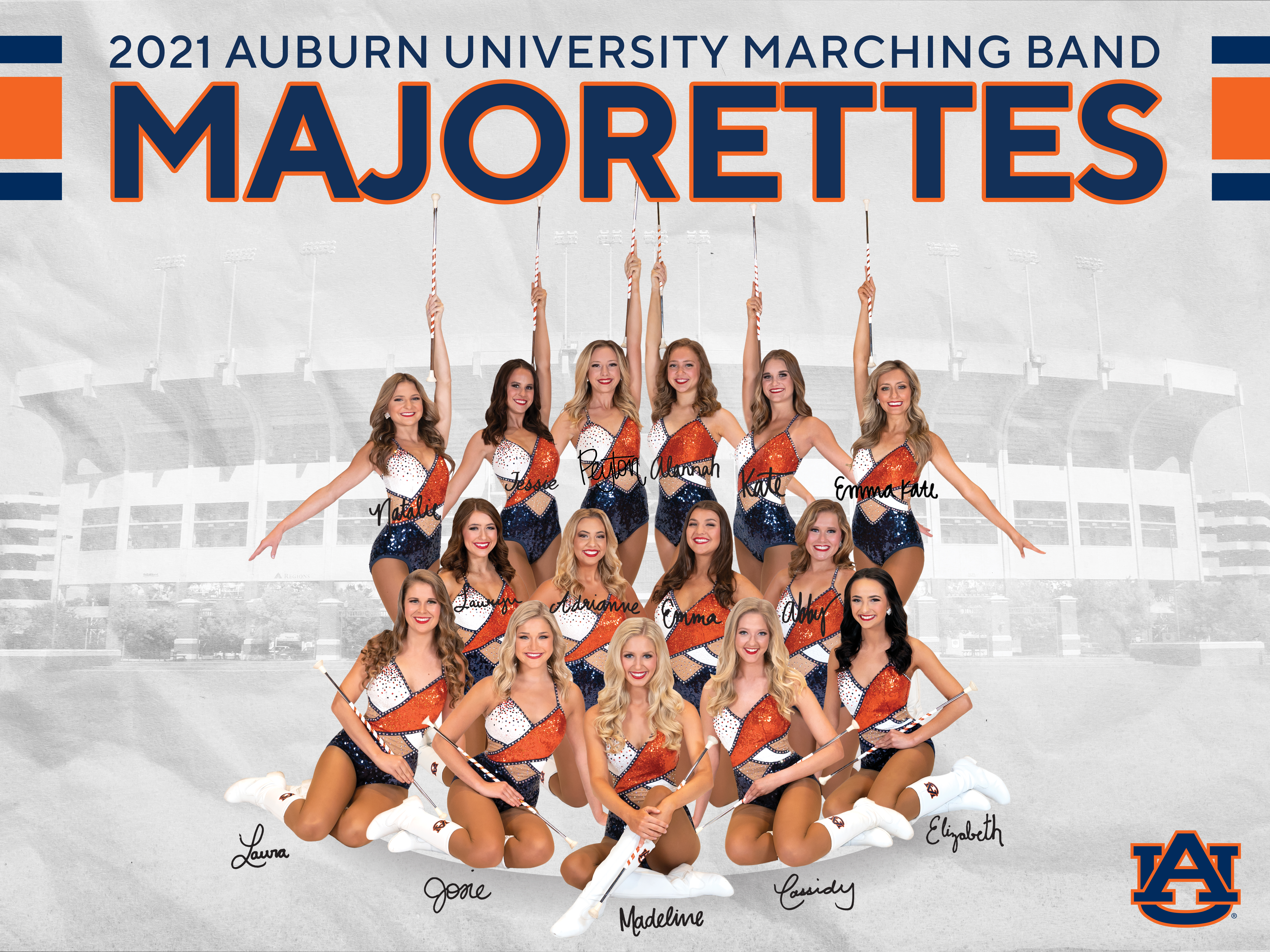 The AUMB Majorettes
The Tiger Eyes Majorette Line is comprised of fourteen skilled and successful young women. Each majorette possesses twirling skill that has been perfected over years of hard work and dedication. Fundamental elements such as multiple spins, one baton, and two-baton work are standard, and daily emphasis is placed on fluidity, presence, consistency, and energy. While each majorette brings her own expertise and talent to the line, it is the strong sense of teamwork that creates their show-stopping performances. By aspiring to the tradition of excellence set by the Auburn University Marching Band, the majorettes, with each new season, strive for a higher standard of performance and skill level to offer the marching band and Auburn Tiger fans.