Auburn University Bands » Events » Honor Bands » High School Symphonic Honor Band
Symphonic Honor Band Festival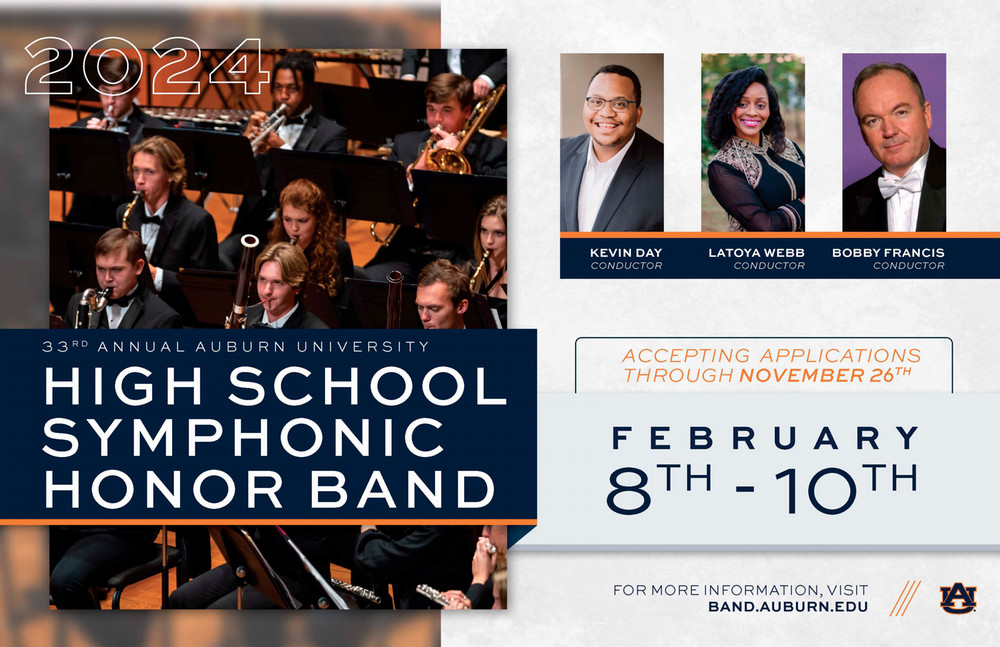 The deadline for applications has been extended until November 26th!

View the audition instructions

The 33rd Annual Auburn University Symphonic Honor Band Festival will take place at Auburn University February 8 - 10, 2024.
Students from across the Southeast and the nation will be selected to participate in the festival based on recorded auditions and applications. This year's festival will feature two bands: the Wind Ensemble and the Symphonic Band. Ensembles will be conducted by renowned band directors, and all participants will have the opportunity to work with Auburn University faculty, staff and students in rehearsals and masterclasses.

The festival will culminate in a finale concert on February 10 at the Gogue Performing Arts Center. 
Auburn University is not able to provide housing and meals for this event. Participants will need to travel with a parent or chaperone and be transported to and from rehearsals at Goodwin Music Building, and to concerts at the Gogue Performing Arts Center. There are options for meals both on campus and downtown, and a list of hotels will be provided when the roster is posted. For participants who drive themselves, on-campus parking can be arranged.
A $10 application fee is required. After being selected, each musician will need to pay a non-refundable $65 participation fee by the deadline in the acceptance letter. Participants will receive a long-sleeved festival t-shirt during check-in, and a medal after the festival has concluded.
If you have any questions, please email us at auhb@auburn.edu.
Last Updated: 11/14/2023