Auburn University Bands » Prospective Members » Scholarships
Scholarships
Auburn University Bands is committed to providing assistance to deserving students who wish to attend Auburn and participate in our ensembles. This page is provided to help prospective band members learn how they can earn scholarships to fund their education.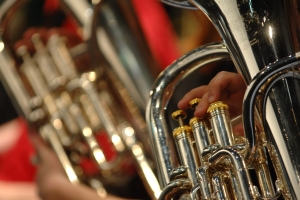 Auburn Office of University Scholarships
Prospective students should first visit the University's Scholarship Office homepage. Auburn University offers a number of academic and merit-based scholarships to its applicants. However, it is very important that you take note of the requirements and deadlines for receiving this support. Please visit Office of University Scholarships.
Music Major Scholarships
The Auburn University Department of Music has scholarships to offer (by audition only) to Music Performance and Music Education majors. With one audition, instrumental music majors are eligible and evaluated for any scholarship funds available, including assistance provided for participation in Auburn Bands (concert and athletic bands). For more details, visit the Music Department Scholarship Audition page.
Non-Music Major Scholarships
The Auburn University Band Department also offers scholarships to deserving students that are not majoring in music. an audition is required for these scholarships, which are dependent on participation in various band ensembles. The availability and amount of these scholarships vary from year to year and are distributed based on playing ability and the instrumentation needs for each ensemble. A scholarship could require participation in the marching band, basketball pep band, concert ensembles, or a combination of bands, depending on the amount awarded and the source of the funding. Being awarded a scholarship for ensemble participation does not mean automatic acceptance into the ensemble; a separate audition for acceptance and part placement is still required. Admission to Auburn University is required in order to be considered for a band scholarship. Priority consideration will be given to those who audition before February 1. Applications received after the deadline may not receive full consideration.
Woodwind, Brass, and Percussion students:
Complete the Auburn University Bands Scholarship Audition form through Acceptd. You can choose between uploading a video or scheduling an in-person audition before the end of the day, February 1st. Please email Dr. Nikki Gross (ngross@auburn.edu) or Sarah Ferguson (sarahferguson@auburn.edu) to schedule an in-person audition. Audition times are scheduled M - F between the hours of 8 am and 4:45 pm based on availability.
The audition should consist of the following for Woodwind and Brass Students:
Scales (2 Major and a full range chromatic)

Students should carefully consider their choice of scales. The directors will evaluate the difficulty of the scale and octaves (range) displayed.

Lyrical Etude
Technical Etude

One piece that contains both a lyrical and technical section is acceptable
Prepared material should not exceed 5 minutes.
Please record yourself playing the scales (name them before you play them; see note about difficulty and range above) and a lyrical and technical selection (all in one video file). Complete the the Auburn University Bands Scholarship Audition form and upload the video file to the form.
The audition should consist of the following for Percussion Students:
Marching Percussion - prepare three exercises from the previous year's audition packet for the instrument you are interested in. If auditioning for bass, select the drum you're interested in and play that part only. For battery instruments (snare, quads, bass, cymbals), all exercises should be performed marking time.
Snare Drum – rudiments, and a prepared, concert-style piece.
Keyboard - 3 major scales, a prepared piece (2 or 4 mallet), sight reading.
Timpani – a brief etude for 2, 3, or 4 drums
Each piece/demonstration should be recorded in one take, with no edits. Complete the Auburn University Bands Scholarship Audition form and upload the video file to the form.
Last Updated: 12/01/2021