Scholarships

The Auburn University Band Department is committed to providing assistance to deserving students who wish to attend Auburn and participate in any of our fine ensembles. This page is provided to help prospective band members learn how they can earn scholarships to help fund their education.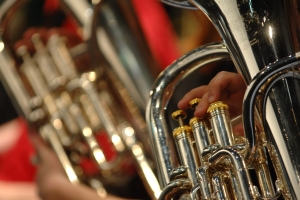 Auburn Office of University Scholarships
Prospective students should first visit the University's Scholarship Office homepage. Auburn University offers a number of academic and merit-based scholarships to its applicants. However, it is very important that you take note of the requirements and deadlines for receiving this support. Please visit Office of University Scholarships to learn more about receiving monetary support for your education.
Music Department Scholarships
The AU Department of Music also has scholarships to offer (by audition only) for Music Performance and Music Education students. These scholarships are affiliated with the band department, so an audition for the music department serves as an audition for band department scholarships. Students that receive music department scholarships are still eligible for additional money from the Band Department for participation in certain ensembles. For more details, please visit the Music Department Scholarship Audition page.
Auburn University Band Scholarships
In addition to the opportunities listed above, the Auburn University Band Department also offers scholarships to deserving students in an AU Bands ensemble (both music majors and non music majors). These scholarships are dependent on participation in our various ensembles. The availability and amount of these scholarships vary from year to year, and they are distributed based on playing ability and instrumentation needs for each ensemble.
If you are interested in a General Band scholarship and an Athletic Band Scholarship, please contact Dr. Rick Good. The General Band Scholarship is offered to wind and percussion players in certain AU Bands Ensembles such as Symphonic Band.
If you are interested in the Athletic Band Scholarship and not the General Band Scholarship, please contact Dr. Corey Spurlin. The Athletic Band Scholarships are available to brass, woodwind and percussion players, regardless of major, for participation in the Auburn University Marching Band and/or the Basketball Pep Band. An audition is required for a scholarship to be offered. For wind players the audition consists of major scales, a prepared etude or solo of the performer's choice (no more than 5 minutes), and sight-reading. Percussionists have the option of playing for the professor of percussion, Dr. Rosener, but official scholarship auditions are held in conjunction with the audition for the drumline at the percussion precamp in June. Percussionists should complete a scholarship application prior to the camp to be considered for an athletic band scholarship. Regardless of instrument, if a student auditions for a Department of Music scholarship on one of the set audition dates, it is not necessary for the student to complete a separate audition to be eligible for an athletic band scholarship.