Auburn University Bands » Directors and Staff » Sarah Ferguson
Sarah Ferguson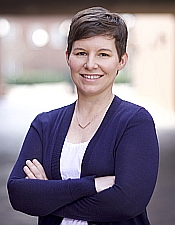 Sarah Ferguson is the Coordinator for the Auburn University Bands.  From 2008-2010, Ms. Ferguson worked in the departments of Music and Theatre.

Before coming to Auburn, Ms. Ferguson acquired professional experience in both teaching and the music industry.  From 2001-2003 she taught 5-12 grade band in rural Indiana.  Under her direction, the band program doubled in size and a record number of students were selected to perform at the Indiana State Solo and Ensemble Festival.  From 2003-2008 she worked as the sales manager for a leading pro shop and internet retailer dealing in musical instruments and accessories.

Ms. Ferguson earned a Bachelor of Music Education degree from St. Olaf College in Northfield, Minnesota.  She served as principal saxophonist in the St. Olaf Band, and played in various chamber and jazz ensembles.
Last Updated: 07/15/2016