Percussion Audition Information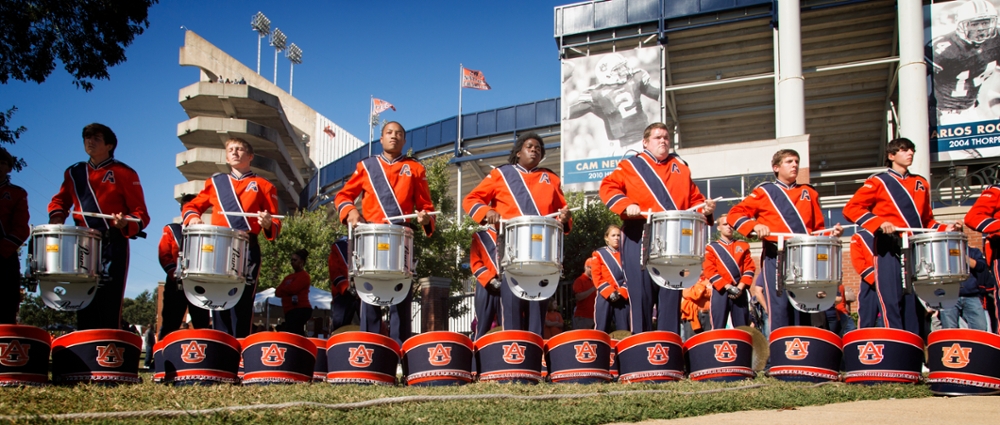 General Instructions for Joining the AUMB
For information on the general process for becoming a member of the Auburn University Marching Band Drumline and Front Ensemble, please visit the Join the AUMB page. If you are certain that you will be auditioning for the AUMB Drumline or Front Ensemble, please join the "Auburn University Drumline 2015 Auditions" Facebook group.
Audition Eligibility:
You must have applied and been accepted to Auburn University at the time of the audition. If you have not applied, please do so immediately. This can be accomplished online at http://www.auburn.edu/admissions.
Audition Details:
The 2015 Auditions will be held during a weekend camp May 29 - 31, 2015.  Registration begins at noon on Friday, and the camp ends at 4pm on Sunday. Callback auditions for Snare/Tenor/Bass will be held August 4th and for Front Ensemble/Cymbals on August 5th.
The Audition Packets for 2015 are posted below.
Audition Fee:
A one time, non refundable audition fee of $30 is due at check in. Please make checks payable to "AUMB" (Auburn University Marching Band).
Note to Those Attending Camp War Eagle:
If you are an entering freshman or transfer student and will be attending Camp War Eagle, you may plan to attend the Camp War Eagle session immediately before or after the audition camp. The audition camp is arranged so that you can attend either session, and only make one trip to Auburn's campus during the summer. For those attending the Camp War Eagle session before the audition camp, plan on coming straight to camp once CWE is finished.
Food and Housing:
Food and housing are not provided for the auditions – please plan accordingly. However, we are usually able to arrange housing for a certain number of out-of-town students with in-town members. Please call Dr. Rosener at (334) 844-3160 for assistance in arranging housing.
What to Bring:
Please plan to have the following at the audition camp:
Sticks/mallets

Practice pad

Metronome – for individual practice (optional)

3 ring binder with audition music, camp schedule, etc. in plastic sheet protectors

Audition fee – $30 (cash or check payable to "AUMB")

Tennis shoes (no sandals – no exception)

Sunscreen

Hot weather clothes – we will be outside in the humidity most of the time

Money for food

Band-aids (just in case!)
Contact:
If you have any further questions concerning the AUMB Drumline and Front Ensemble, please contact Dr. Doug Rosener by email at rosendb@auburn.edu or by phone at (334) 844-3160.